« December 2004 | Main | February 2005 »
January 27, 2005
Ewen Chia's New Product Is A Winner!
Re: What you should have received sooner.

Hi,

I just flew in From Europe and it is 3:37 am I am in New York and I fly out tomorrow for Detroit. I missed sending email #2 yesterday (as promised) as I had no NET access...

So Here It Is (Email #2 of 3)


My Friend Ewen Chia had a new product released as we speak. He had asked me to review it and send him a testimonial. I had problems with the ZIP file (on my end) and I could not review it so I could not offer him one. Sucks for me.
But then,

I saw what some people had said about it and people even told me "off the record" that this was the real deal. I mean, people that I know that make real fulltime incomes online we telling me they were stunned.

Come on?

So the fact that I could not get it to open made me want it even more. I finally had the opportunity to review it the other day and I am reminded, why Ewen has so much success with a why I can always learn from a "PRO".

I kiss his butt a lot and he does not want to hear it from me, but this guy may be one of the BEST AFFILIATE MARKETERS (doing the stuff that I do) there is in the game.

We all need to learn from him

I emailed Ewen and told him I can't get the testimonial out to him till I get back next week, but I would not miss out on letting you know about this exciting money making information.

So to cut to the chase....
Stuff-Your-Inbox-With-Cash - Click Here

Read that page and when you buy the product, you will see what has everyone so excited.

Thanks,

Mike Filsaime


P.S.
Sorry this was late. I know you want to know
about this stuff ASAP as it is cutting
edge but where I was I could not get online.


P.P.S
Tomorrow is email #3 of 3 and that will talk
about how to do a FireSale and some things
you need to know.


P.P.P.S
Also, look out for an email from me in Sunday.
This will be one to look out for. But for now
make sure you snap this up now:

http://mikefilsaime.com/recommends/Stuff-Your-Inbox-With-Cash
(and read it and use the software bonus!)

Posted by Mike Filsaime at 09:53 PM | Comments (0) | TrackBack
January 24, 2005
Mike Filsaime the Actor??
Re: Me on the Joe and Mable Show
(Link to listen below)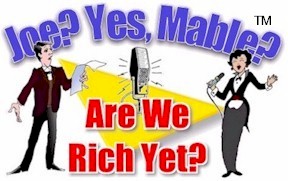 Hi,

I hope you liked my last email yesterday about my trip in Europe.

In that email I told you that I had 3 emails for you in the next 3 days that were COOL and FUNNY.

Well, for the 1ST one of 3, I may be NUTS but I think you will find this site a fresh spin on marketing.

Here is a site that FRESH and FUNNY.

I was a guest "ACTOR" on the show this month.

(No Academy Awards here for me)

So if you want to know some personal secrets about how I suffer from obsessive - compulsive habits (such as having to do things in even numbers on both sides of my body, LOL) you may find this pretty funny. I even let you in on my simple "Macaroni and Cheese" style Mickey Mouse Diet.

(I like simple frozen foods and Chef-Boy-Ar-Dee and Ellio's Pizza)

So now that you know that I am a "not-so-normal" head case with a bad diet, try not to laugh to much when you hear this fun audio.

http://www.joeandmable.com/showcase.html

Thanks,

Mike Filsaime

P.S.
If you want to tell me I am nuts (I already know), just go to www.replytomike.com

P.P.S.
Don't forget to look out for the next 2 emails I have to share with you about some great stuff I came across recently...

Posted by Mike Filsaime at 09:33 PM | Comments (0) | TrackBack
Did you miss me? (Live from Europe)
Re: My vacation in Europe

Hi there,

Miss me? I doubt it, LOL

You were probably enjoying the break of emails ;)

Well, I just wanted to tell you about my trip to Europe.

(Pictures below)

I got here on Thursday Local Time about 3PM. I spent part of the Day in Amsterdam Holland.

I must say that is one of the most beautiful place I have ever been in my life. And the people are just as nice :)

From there I went to Hungary and spent 2 days in Budapest at a nice hotel and went to the largest (so I am told) mall in Europe.

Here I met with Ionut so he could drive me to his home country (Romania).

As a car man, I was in total SHOCK at all of the Euro Cars I have never seen before and makes I did not even know existed. Wow~

The roads are FREAKY if you are not familiar with the area. Oh Boy!!

Remember Chevy Chase in European Vacation? Going in circles in a "Traffic Circle."

Well... That was me ;)

From there we went off (in a Snow Storm) to Romania. YIKES!!

The highways in Hungary were just like the interstates I am used to in the U.S.

But then.... (Dun - Dun - Dunh!) we hit the roads in Romania.

Beautiful country but the roads had me so scared when it was a snow blizzard that I thought we would slide off the road, LOL.

We went to a nice club but one thing that has me up-side-down, is they do not eat like we do in the states.

Here, its all about "Espresso". I had to search all over just to get a cup of regular coffee. No luck!! Until,

....McDonalds! That is the only place you can get coffee to go! (A real small cup too).

Oops, I also got shocked when they put butter on my cold cut sandwich but I must say, I really liked it :-)

Then, as in PULP FICTION, I see on the menu... "The Royale With Cheese".

For those of you (still reading) that do not know the reference, it is the European version of the

"Quarter Pounder with Cheese."

It has to do with the METRIC SYSTEM, they don't know what the (ah-hem) a Quarter Pounder is, LOL.

(Ironic, but PULP FICTION is on the TV as I write this.)

So now, we are live online and having a ball getting to our 4091 emails we missed the last few days. You should see the smile on my face to read them (kidding, I am stressed, LOL)

So, I leave here in a few days, and then I do not even get to go home. I go straight to Detroit for a Seminar with Stephen Pierce, Armand Morin, Jay Abraham and others.

So I will get you some pictures when I get home but for now, here is a great picture of me and the famous "IONUT"
(Ion = John, - ut = little .. Little John)




And we got this great picture on just one try. (If you believe that, I have a great $47 product that will make you 10 Million Bucks!!! ;)

Well, that is it for now. MY NY time is 1:29 am but it is 8:30 am here and I just saw the sun rise.

So off to bed I go (After I run into town ... don't ask!) and the I get some more pictures and off to bed :-)

Talk soon,

Mike Filsaime


P.S.
The next 3 days I have some stuff you will find funny and entertaining so please look out for these emails.

Posted by Mike Filsaime at 09:20 PM | Comments (0) | TrackBack
January 19, 2005
I called in a Favor - (need leads?)
Hi,

My members ask me all the time "how to get leads" and and "how to market to them" and build an opt-in list from these leads.

Well, I called in a favor and made a great deal for MY MEMBERS ONLY to get the leads for you.

http://jpeadvertising.com/listdotcom/

Don't thank me, thanks Phil and Jane from JPEadvertising.com.

So make sure you check this out. I may not have a chance to tell you about this again for a loooong time (real busy) and I hope you don't miss out on this.

http://jpeadvertising.com/listdotcom/

Thanks,

Mike Filsaime

P.S.

I am in a SNOW STORM and flying from JFK (NY) to Europe (Amsterdam, Hungary, and Romania) to meet my partner Ionut for the first time.

I am walking out of my house now but I wanted to make sure you saw this:
http://jpeadvertising.com/listdotcom/

Posted by Mike Filsaime at 09:15 PM | Comments (0) | TrackBack
January 06, 2005
Payment plan

Hi guys,

A few days ago I sent you an email about that
crazy New Year's Fire Sale that a good friend
of mine Jeremy Burns is doing over at

http://jeremyburns.com/cmd.php?af=195567

Today you pay only $1.00 to access the package!

Jeremy just contacted me and told me he wanted to
make sure anyone that wanted to pick this deal up
would have the chance to, so he has just set up a
payment plan that starts at only a buck!

Get 10 top products worth close to $4000, most
with Reprint Rights... for a measly buck! How
could anyone pass on this.

If you want the chance to start 2005 with the
rights to some of the hottest products available,
then don't waste any more time.

You need to check this out right now because it's
over in just a few short days!

http://jeremyburns.com/cmd.php?af=195567


Thanks,

Michael Filsaime

P.S. This offer ends in days so do not wait on this.



Posted by Mike Filsaime at 02:57 PM | Comments (0)